Mackay is home to more than 120,000 people and is located halfway between Brisbane and Cairns along the Queensland coast. Mackay is linked to the rest of the state by a comprehensive network of rail, road, sea and air services, making travel easy and accessible. Only an hour's direct flight from Brisbane, Mackay Airport offers several regional flights in the instance you need to travel for work or have friends visit.
Compared to larger cities, land and property prices cost much less in Mackay and the region provides a better lifestyle to live, work and play. With its tropical climate, year-round blue skies and sunshine, stunning beaches and luscious green scenery, Sugarview Estate really is the perfect place to call home. Mackay has a humid subtropical climate with average maximum temperatures ranging from 30 °C in Summer to 23 °C in Winter, while minimums range from 23 °C to 11 °C. Perfect all year round.
Mackay is widely recognised as the gateway to the Bowen Basin coal mining reserves of Central Queensland. It is the single largest coal reserve in the country and produces a large percentage of Australia's export coal. The resource industry is major provider of jobs in the region, providing thousands of employment opportunities to locals.
Whitsunday Islands
There's no limit to the wonder of the Whitsundays! Lying in the heart of the Great Barrier Reef, in the warm waters of Australia's Coral Sea are 74 tropical islands. It's a true Queensland paradise where you can expect the unexpected and feel the freedom to make it your own experience – whether it's about relaxation and romance, or all the action of an island adventure. Be the master of your own destiny; charter a yacht and skipper yourself, or take a cruise and let someone else do the sailing for you – either way, let the grandeur of the landscape and the endless horizon dotted with islands wash
Most of the Whitsunday Islands are beautiful, tropical deserted islands, but eight offer a variety of resort accommodation, all with the Great Barrier Reef and fringing coral reefs at their doorstep. Whether it is eco-style, family friendly, all inclusive, activity based, food and wine focused or pure luxury, there is a Queensland resort experience to suit everyone in the Whitsunday Islands. The Whitsundays is home to the renowned island resorts of Hamilton Island, One&Only Hayman Island, Daydream Island Resort and Spa, Long Island Resort, Paradise Bay Eco Escape, Lindeman Island, Brampton Island and South Molle Island.
Click here to visit Tourism Whitsundays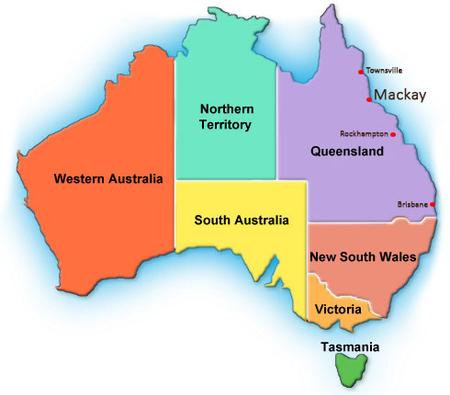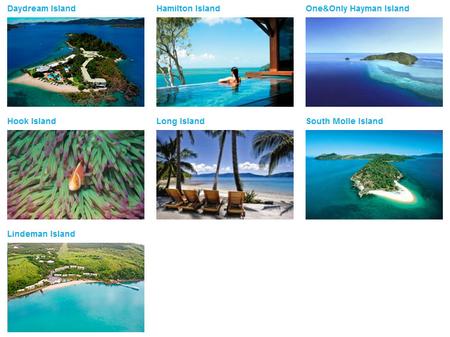 Weather in Mackay
Mackay has a humid subtropical climate. Average maximum temperatures range from 30 °C in summer to 23 °C in winter, while minimums range from 23 °C to 11 °C. Winters are sunny and fairly dry, with minimum temperatures usually dropping below 5 °C, but rarely any lower than 0 °C. Days are pleasant and warm; however, occasional cloudy days may keep the temperature below 20 °C all day. Mackay has about 0–2 days a year when the temperature goes below zero, also Mackay experiences light to heavy frosts. Temperatures below 0 are extremely rare in the city center but in outer suburbs the temperature sometimes drops below zero. Mackay gets around 110.0 clear days annually. Spring is usually dry, but significantly hotter and more humid than winter, with temperatures beginning to top 30 °C on a regular basis. Occasional thunderstorms may cause heavy downpours, but the very heavy rain will not arrive until later in summer. December is the start of the wet season, which lasts until March or April. High humidity, almost daily rainfall and very warm nights are typical of this time of year. Monsoonal low pressure systems and tropical cyclones occasionally affect Mackay, and cause very heavy, prolonged periods of rain, with totals of up to 200 mm often being recorded in 24 hours during these systems.